Fire and fire safety are issues that only jump onto the radar for most people at times of crisis. In contrast, these are topics that are never far from the mind of Professor Ken Matsuyama.

Matsuyama is a professor at the Graduate School of Global Fire Science and Technology at TUS, which boasts a curriculum and facilities in a league all their own when it comes to fire science research.

"Within Japan, only at TUS can you experience this caliber of fire science. Only a few domestic institutions have facilities of similar scope and size for full-scale fire experiments," explains Matsuyama, a TUS graduate.
Matsuyama himself studied architecture at TUS and was captivated by fire science research at the university, which prompted him to pursue the area and ultimately become a professor at TUS. In short, he says, TUS boasts expertise that can only be found at a handful of locations worldwide and is unrivaled in Japan.
At the Forefront of Fire Safety
TUS has long been at the forefront of fire science. TUS established the Center for Fire Science and Technology (CFSaT) in 1981 and hasn't looked back since. Today, the fire science and technology research group carries on research to help reduce the damage and impact of fires.

The center is highly regarded around the world and cooperates with other leading institutions—academic and otherwise—working in areas of fire safety research, education and engineering worldwide.

Today, Matsuyama carries on this tradition of research at CFSaT, which was established in 2005 and boasts world-class laboratories, facilities and equipment.

"We are able to leverage our superior facilities, designed specifically for fire science studies, to do experiments for enhanced fire safety," Matsuyama says.

The sprawling center features an 18-meter-tall, full-scale fire test hall that can be used for just about any fire science test imaginable—from smoke behavior tests to structural fire resistance tests and fire behavior tests in mock-up office spaces with combustible furniture.

While the center's facilities are immense, even more impressive is watching them in action. An experiment in progress is truly riveting. Flames lurch upward, heat pulses outward and plumes black of black smoke are sucked away through massive smoke-collecting hoods by powerful fans.
In a Class All It's Own
While CFSaT has a broad mandate to conduct research, today research is largely focused on developing fire safety-related tools.
"We recently finished developing a numerical model to simulate the effects of sprinklers in relation to disturbing smoke flow," Matsuyama explains.
Matsuyama and others hope that the numerical simulation model will empower manufacturers to create better and safer sprinkler systems.
But this is only one facet of the work that goes on. The graduate school's eight faculty members have expertise in a variety of areas from fire dynamics, fire risk analysis and combustion theory to smoke and human behavior, structures in fire and disaster prevention. Moreover, the cutting-edge facilities let researchers go beyond the realm of theoretical to experiment.
Vast Expertise: Thinking Outside the…
Currently, a major area of focus is how to harness terahertz electromagnetic waves to develop fire-safety and rescue technologies. Matsuyama and his industrial-academic cooperation team is doing more than thinking outside the box, they are thinking outside the visible spectrum.
"We are working to develop a tool that uses electromagnetic waves for greater safety when it comes to fires," Matsuyama explains.
Terahertz technology is biologically safe because it uses electromagnetic waves that fall between visible light and radio waves. Matsuyama says terahertz waves can inspect inside non-metallic structures—cutting through the smoke that often waylays conventional infrared systems—and also offers high spatial resolution. Matsuyama hopes that they will be able to create a revolutionary new proposition.
"If we can develop a remote gas sensing system it could be very useful for fire-fighting activities on site," Matsuyama elaborates.
Such a system could simplify and accelerate gas sensing. Terahertz waves resonate with the rotation or vibration of gas molecules. As each toxic gas has its own characteristic absorption lines, the patterns of the lines seen can be used to identify the types and concentration of toxic gases. This could provide information remotely and instantly about gas concentrations—such as carbon monoxide or dioxins—inside burning buildings to inform firefighter decisions about whether or not a site is safe to enter.
Currently in the second year of a three year project, the team is looking to leverage terahertz imaging to develop active imaging systems.
The researchers are also optimistic that they can develop a system that offers superior and active imaging. In a smoke-filled room firefighters are sometimes unable to see a meter in front of them, a fact the presents quite a challenge.
"One benefit is that we can expect to see objects through smoke and flames with an active terahertz imaging system. Such a system has great promise. If it can identify what is happening in rooms, especially smoke-filled rooms, then this system would be a powerful tool in rescue operations and firefighting inside buildings," he adds.
One day it may even be possible to have surveillance cameras that can double in times of fire as terahertz cameras and be used to search for people trapped in buildings remotely, he says. Another Matsuyama vision for the future has handheld or head-mounted cameras for fireman to see an image of the interior of a burning structure in real time—something that could revolutionize fire rescue.
The fire science program at TUS has students from around Asia, including Bangladesh, China and South Korea, and is eager to welcome more motivated students to the cutting-edge of fire science research.
"The research is fun, but, more importantly, the work that we are doing will help to improve fire safety and security in the world and to save lives," Matsuyama says.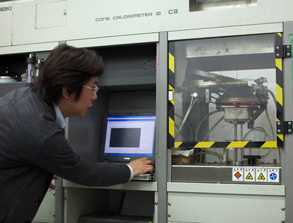 Professor Ken Matsuyama, Ph.D.
Professor Matsuyama earned his Ph.D. from the Department of Architecture of the Graduate School of Science and Technology at TUS. His areas of specialities are Fire Dynamics, Combustion and Extinction Theories, Thermal Fluid Engineering and Measurement Engineering. Dr. Matsuyama is a Professor at Department of Global Fire Science and Technology of the Graduate School of Science and Technology.