2026
Medium-Term
Action Plan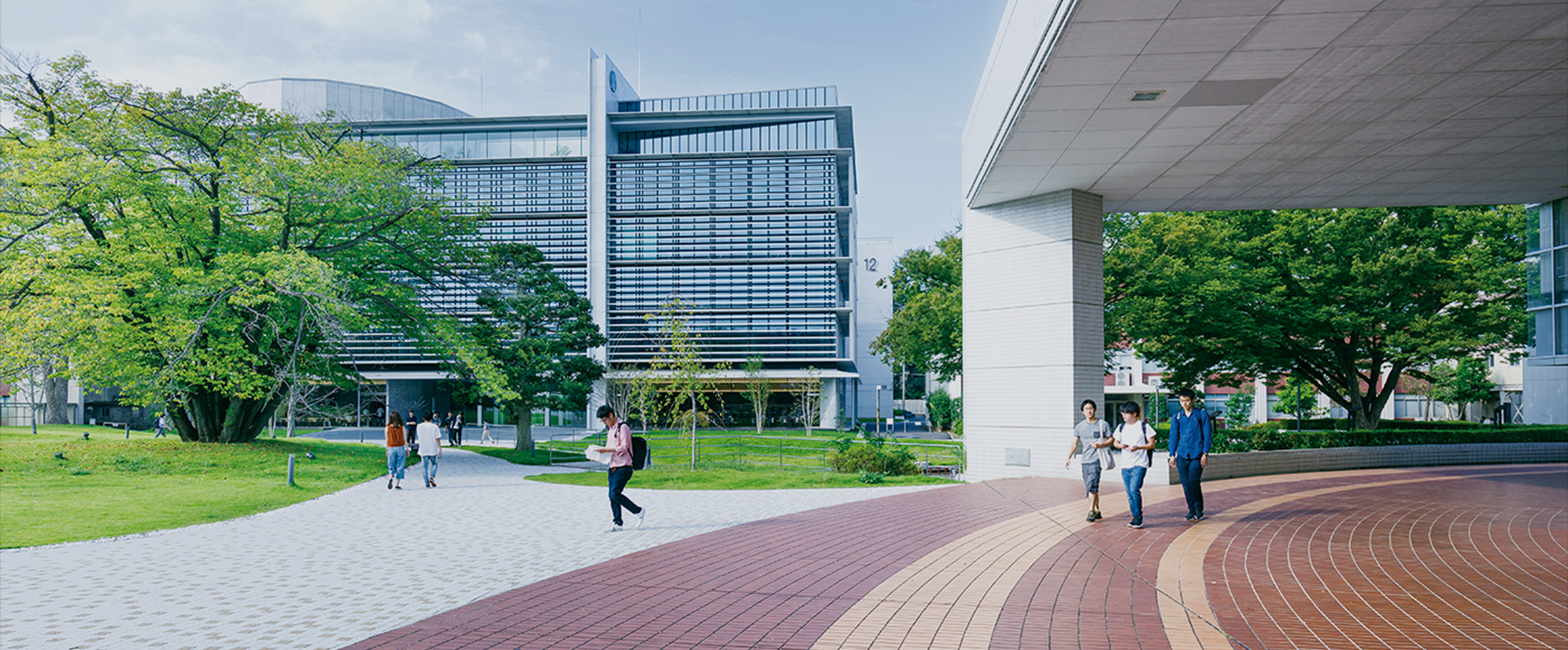 Founded in 1881, Tokyo University of Science (TUS) celebrated its 140th anniversary in 2021. With the 150th anniversary now ten years away in 2031, TUS continues to work towards its "TUS VISION 150" that preserves its history and traditions, resolutely pursuing growth and change. Our progress towards this vision is gauged according to medium-term action plans, with the latest being the "2026 Medium-Term Action Plan (2022-2026)."
The world is facing an ever-growing number of challenges that require the power of science to address, including the rapid pace of globalization, food and water availability, climate change, the spread of new, infectious diseases, and energy shortages. These challenges impress upon us the increasingly important role that TUS has to play. By tackling and eventually realizing our new medium-term action plan, which incorporates the measures for addressing these challenges, TUS will more strongly ensure it contributes to society and develops as a university.
History of TUS
The history of Tokyo University of Science goes back to 1881, when a group of 21 young graduates from the University of Tokyo's Department of Physics, established Tokyo Butsurigaku Koshujo : Tokyo Academy of Physics. These founders felt a deep debt of gratitude for the cutting-edge education they had received thanks to the generous support of the national and domain governments. Believing that science was an essential discipline for facilitating the modernization of Japan, they sought to repay their debt of gratitude by contributing to the spread of science.
With its founding spirit of "Building a Better Future With Science",Tokyo Academy of Physics in time grew and developed to become Tokyo University of Science, Japan's largest general private university of science and technology. Since its founding, TUS has contributed significantly to education in Japan, producing many outstanding math and science instructors for the country's teacher training schools and secondary schools, both before and after World War II, and, starting with Japan's post-war economic growth, TUS has also contributed to the development of Japan as a "technology-driven nation" by producing many outstanding engineers and researchers.
"Achieving Excellence" is the educational principle at TUS, and thanks to the sound education it provides which is rooted in this tradition, TUS enjoys a reputation as a "university which forges students."
TUS utilizes a "Kanmon System," which is based on the idea that graduation is earned only by those students who are truly capable and, thus, requires students to perform well academically in order to move up to the next grade. But this doesn't mean that the goal is simply for students to work hard for many years to earn enough credit to graduate. In order to more clearly communicate, in contemporary language, the university's approach to education, the expression "Achieving Excellence" has been used since the 2020 and 2021 academic years.
The education and research ideal promoted by TUS is "Innovation in Science and Technology for Sustainable Development," and, towards that end, a larger portion of finances is allocated to education and research compared to other universities. This system frees up faculty members to pursue more diverse research endeavors and earns TUS a reputation as a private university that is strong in research.
Positioning of the
2026
Medium-Term
Action Plan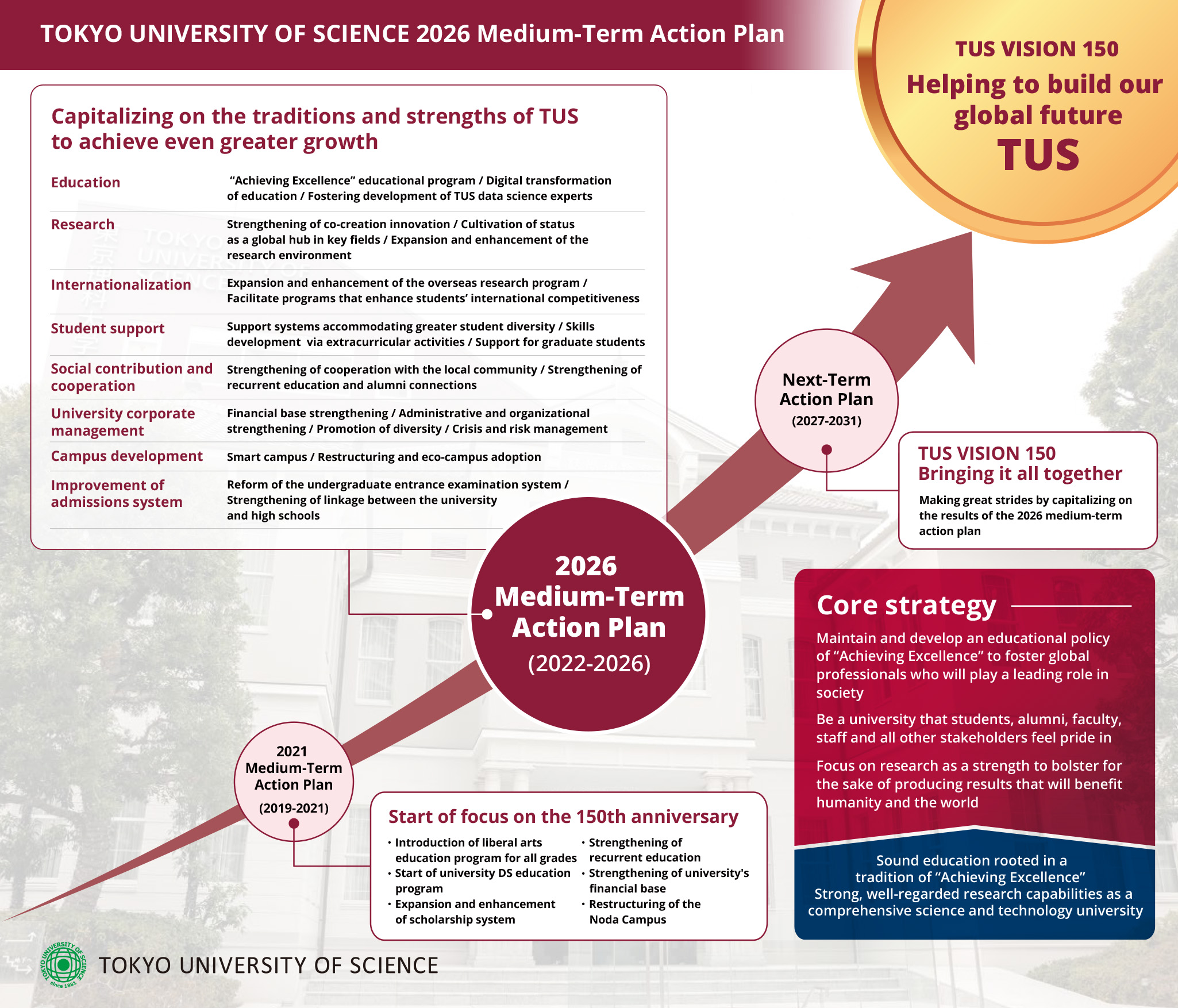 Tokyo University of Science's founding spirit is expressed as "building a better future with science." And this founding spirit is put into practice through the cultivation of graduates who will help drive technological innovation, as well as through the pursuit of advanced education, research and their results. This sense of mission motivates TUS, as a university, to keep addressing global challenges, to keep promoting the development of science and technology, and to keep contributing to the betterment of the international community. We firmly believe that this will keep alive the passionately held ideals of the university's 21 original founders and give TUS greater significance.
TUS will celebrate the 150th anniversary of its founding in 2031. The vision for what TUS seeks to look like at that time is described below by the "TUS VISION 150" (created in the 2017 academic year). The aim of this vision is to see TUS grow from being a university that supports the development of Japan into a university which helps in building our global future.
In order for TUS to become a university which helps in building our global future, we are boldly working to address global challenges, as represented by the Sustainable Development Goals (SDGs). Through these activities, we ensure that TUS is an educational and research institution which produces globally active researchers and professionals. They are motivated and able to provide the research innovation that will enable the world to meet these challenges.
We are working tirelessly so that, in ten years' time TUS will be recognized as a world-renowned research hub in areas of science and technology, where we excel, as well as be contributing through our research to global sustainable development. Through all of this, we will be attracting students and researchers from all over the world as a university where graduates are equipped for success on the global stage.
With the above vision in mind, TUS creates medium-term action plans, aiming at further development of our university. The plans state that TUS not only addresses ordinary issues but also apply the already mentioned traditions and strengths of our university in adapting to changing times and the needs of society.
TUS is helping to build our global future by maintaining and developing an educational policy of "achieving excellence" in the pursuit of educational innovation that fosters global professionals who will play a leading role in society. TUS contributes to building our global future also by developing an environment which will further strengthen our already strong research capabilities, leading to results that will benefit humanity and the world. We undoubtedly demonstrate our value to society and give students, alumni, faculty, staff and all of our other stakeholders reasons to feel pride in TUS, by building up and communicating our distinctive characteristics as a science and technology university and, thereby, raising our profile as a university which undertakes these sorts of efforts.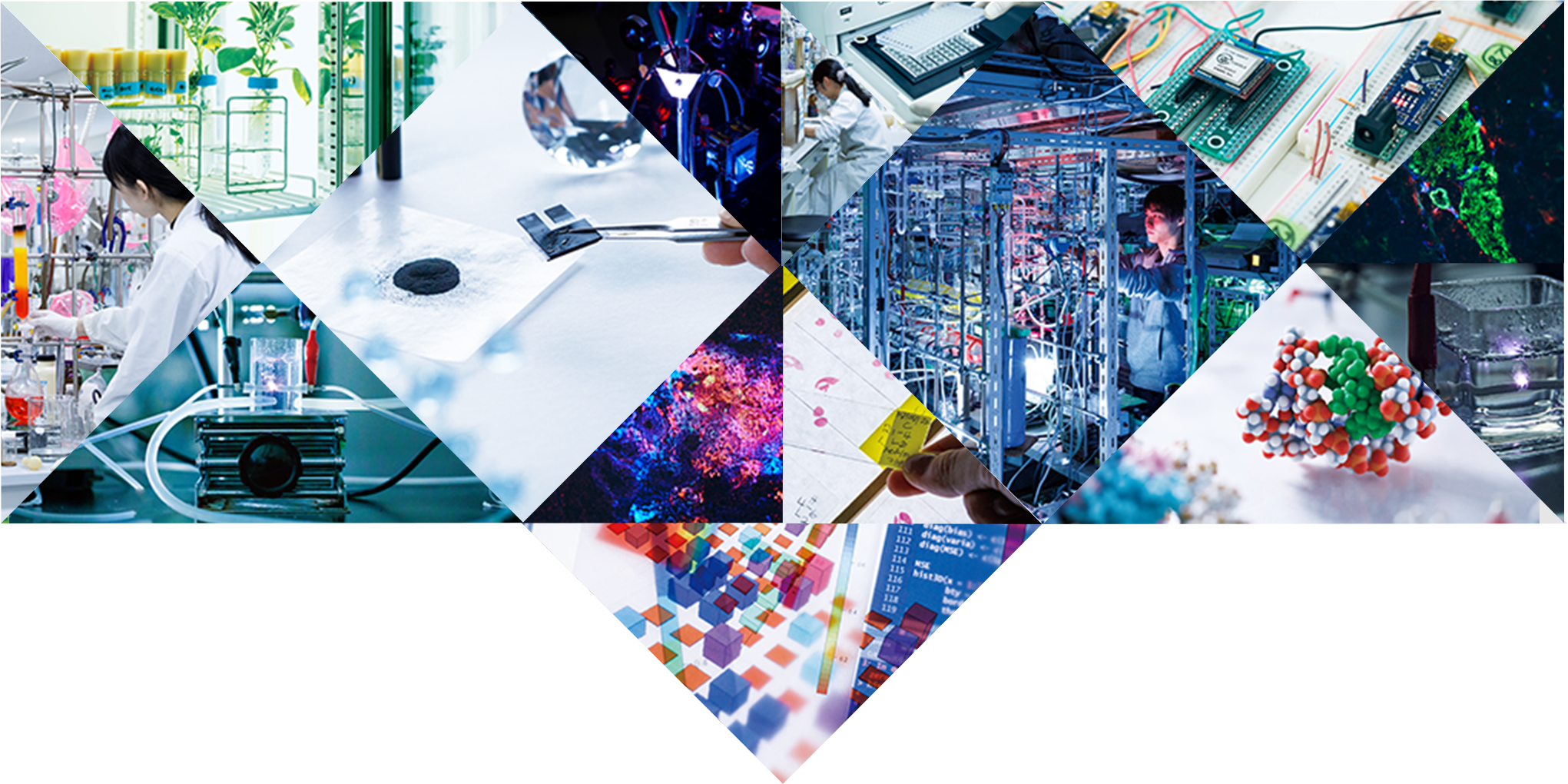 TUS VISION 150
– A Vision of TUS for 2031 (150 years after founding) –
Training large numbers of people to leverage Japan's advanced technology in the drive for innovation
Contributing people who can serve as world-class leaders in the fields of science and technology, business management and education
An environment that fosters people who can tirelessly seek solutions that contribute to humanity, with outstanding practical skills and perseverance
A research hub that leads the world, covering the spectrum from basic to applied research
A magnet for people from around the world seeking free, open and versatile dialogue in an interdisciplinary community
The nucleus of a robust network of alumni who contribute to society wherever they are in the world
Eight Keywords
of the 2026
Medium-Term
Action Plan
8 CATEGORIES

keywords
1
Education
Pursue education related to
preservation of the global commons
Pursue cross disciplinary education
Foster development of data science experts
Develop an AI-driven autonomous learning system
Utilize effective learning and
teaching methods
2
Research
Strengthen collaboration with external organizations
Develop as a research hub which attracts researchers from around the world
Open up new areas of research
Further expand and enhance the research environment and support systems
Raise the profile of TUS as a research university
3
Internationalization
Utilize on-line learning programs
Expand and enhance the overseas research program
Facilitate instruction of
presentations in English
4
Student support
Link the student medical records system with the learning portfolio
Promote peer support activities
Foster personal growth and openness to challenge
Encourage students to go on to graduate school
Create and expand benefit-type scholarships
Support upskilling, career
development and finding
employment
5
Social contribution
and cooperation
Raise science awareness among children
Provide research support to local companies
Participate in and bolster disaster prevention and mitigation activities
Support recurrent education
Strengthen collaboration with alumni
6
University corporate
management
Strengthen the university's financial base
Promote digital transformation of clerical and administrative sections
Pursue personnel system innovation
Bolster personnel training systems
Improve work environments
Strengthen risk management systems
7
Campus development
Put in place a smart campus
Facilitate the integration of real and virtual environments
Make campuses more eco-friendly and undertake restructuring
Promote carbon-neutral initiatives
8
Improvement of
admissions system
Develop a new admissions system
Expand and enhance the admissions system for students recommended by high schools
Promote linkage between the
university and high schools
Tokyo University of Science 2026 Medium-Term Action Plan (2022-2026)
(only in Japanese)