Message from the Chairperson of the Board of Directors
A University with global appeal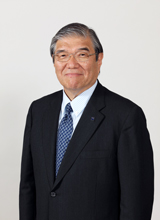 In our current society where the economy is undergoing increasing globalization, under the concept of cultural exchange, we must foster human resources capable of demonstrating leadership, both in Japan and globally. It is universities that are at the vanguard of this human resource development, and indeed it is universities that provide the infrastructure for such development.
The Tokyo University of Science, with its history of over 130 years, is a university which concentrates on the fields of science, engineering and management, equipped with a solid foundation upon which Japan can once again spearhead global competition. We wish to build on those foundations to send out into broader society graduates with additional skills in management and business who are capable of responding to global competition. In our quest to become a global science and engineering university, we must promote innovation in our two core functions of education and research while at the same time pursuing how to enhance the university's quality.
We will deliver our promise to the future by returning to our traditional merit-based principles.
Kazuo Motoyama
Chairperson of the Board of Directors
Tokyo University of Science Foundation