On November 30 (Wed), 2022, Vice Minister of Bilateral Foreign Policy of the Ministry of Foreign Affairs of the Dominican Republic, José Julio Gómez, along with a party of six others, including Ambassador Robert Takata, paid a visit to Tokyo University of Science. This was a courtesy call in recognition of TUS' cooperation with the Dominican Republic's "Mathematics Experience Center" activities and mathematics education promotion efforts.
Vice Minister Gomez talked about how mathematics education has grown as a result of the Dominican Republic's Mathematics Experience Center, and in remarks to President Masatoshi Ishikawa, he expressed his appreciation to TUS for the change which its activities have brought about.
Afterwards, the party discussed the current state of education in the Dominican Republic with Vice President Hideaki Sakata, and both sides agreed to promote greater academic research exchange and student exchange between TUS and the Pontificia Universidad Católica Madre y Maestra (PUCMM), with which TUS already has a cooperation agreement.
Later, the party traveled to the Mathematics Experience Center on the Kagurazaka Campus where they were reunited with Professor Emeritus Jin Akiyama, who was the driving force behind the establishment of a Mathematics Experience Center in the Dominican Republic. Professor Emeritus Akiyama personally showed the Vice Minister's party around the Mathematics Experience Center and performed demonstrations using the Center's teaching materials. A relaxed and friendly atmosphere accompanied the demonstrations from beginning to end.
For the future, plans are in place for TUS to help with the Dominican Republic's Mathematics Experience Center instructor development training scheduled for 2023.
*In 2021, Professor Emeritus Jin Akiyama was awarded the "Orden Heráldica de Cristóbal Colón (Order of Christopher Columbus)" by the Dominican Republic.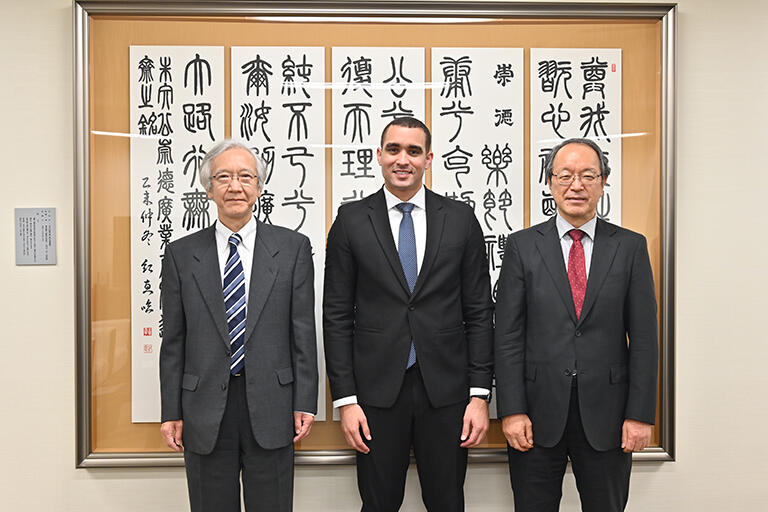 Vice President Hideaki Sakata,Vice Minister Gomez,President Masatoshi Ishikawa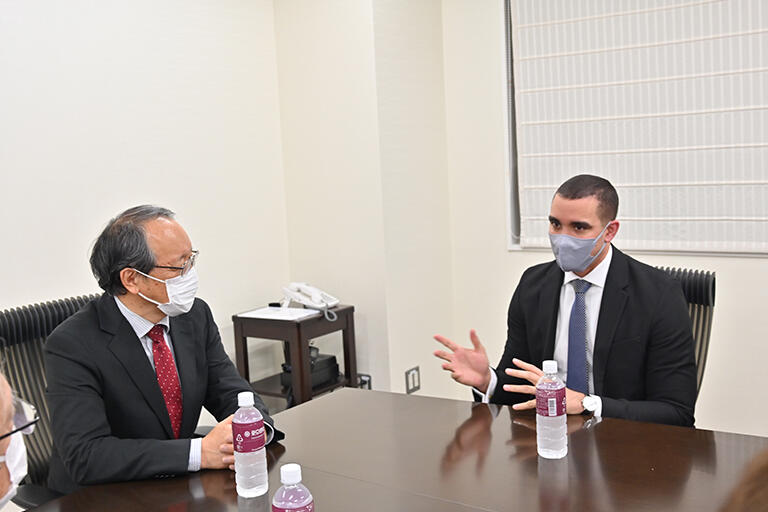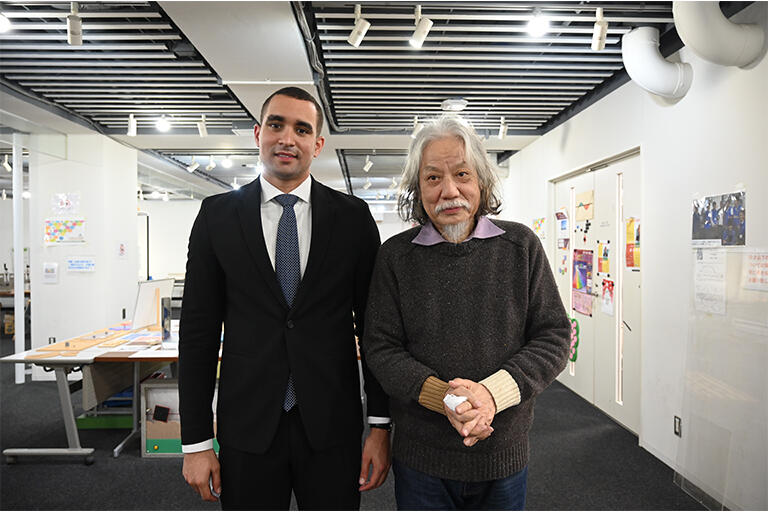 Vice Minister Gomez,Professor Emeritus Jin Akiyama