On the Nose: Scientists Optimize Intranasal Anti-Depressant Drug Delivery to the Brain
Japanese researchers have succeeded in effective intranasal delivery of modified anti-depressant peptide-based drug to the brain
Drug delivery to the brain has been challenging, owing to disadvantages like systemic absorption, slow axonal transportation, rapid drug degradation, and invasiveness of commonly used techniques. Accordingly, researchers from Japan have successfully attempted to bolster intranasal drug delivery to the brain, making it as effective as other conventional delivery methods, by adding sequences that enhance cell permeability and degradation escape to an anti-depressant drug called glucagon-like peptide 2. Their findings are published in the Journal of Controlled Release.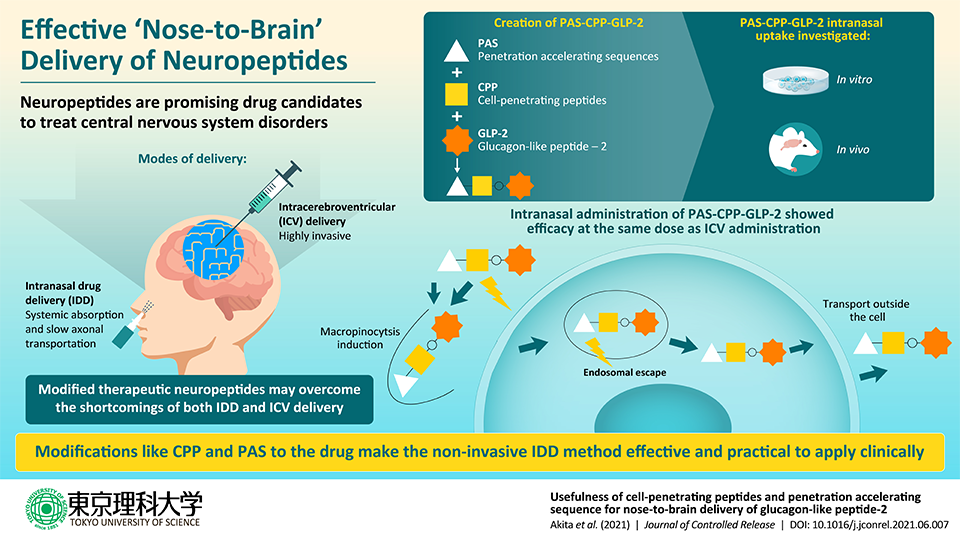 Clinical researchers working on drug delivery to the brain have been faced with several challenges. Firstly, currently used methods like intracerebroventricular (ICV) administration are extremely invasive. Secondly, other methods like intranasal administration are weighed down by with issues like ineffective cell permeability. Thirdly, even if the drugs gain access into the neurons, their action in the brain is impeded by slow axonal transportation and fast degradation.
After years of meticulous research, a group of Japanese researchers, led by Prof. Chikamasa Yamashita from Tokyo University of Science, working on intranasal drug delivery (IDD) to the brain, have finally achieved success in delivering an anti-depressant drug called glucagon-like peptide 2 (GLP-2) in a mouse model of depression. They modified the drug to accelerate its transportation, while minimizing any degradation, all while achieving the same therapeutic effect as ICV administration, according to their findings published as a research article in the Journal of Controlled Release.
Speaking about the motivation behind pursuing IDD, Prof. Yamashita, the corresponding author of the study, says, "Although there have been more than 20 years of phenomenal IDD research, I had wondered why it has not been put to practical use. Then, I realized that most IDD research had focused on drug delivery through the olfactory epithelium, which accounts for only 2% of human nasal mucosa. Alternatively, my team focused on the central delivery of drugs through the remaining 98% of such mucosa - respiratory epithelium, specifically through the trigeminal nerve."
The scientists began work with GLP-2, a neuropeptide that has shown therapeutic effects, even in treatment-resistant depression. Given that many drugs entering the body lose their therapeutic effectiveness due to endosomal degradation within the cells, the scientists added a peptide-derived sequence to GLP-2, called a penetration accelerating sequence (PAS) to help evade this degradation. Also, they enhanced the permeability of the drug to the respiratory epithelium, by the addition of another membrane-permeability promoting peptide-derived sequence called as cell penetrating peptides (CPP). Then, they proceeded to test this modified drug in the mouse model of depression.
Their results showed that GLP-2 uptake into the respiratory epithelial cells were enhanced owing to the presence of the CPP. GLP-2 endosomal escape was also enhanced by PAS. In short, this double-modification allowed the effective nose-to-brain delivery of GLP-2. Interestingly, the researchers found that the modified IDDS achieved therapeutic effectiveness in 20 minutes, similar to ICV administration. However, IV administration didn't demonstrate the intended effect.
Overall, this breakthrough study has taken medicine one step closer to the practical application of intranasal neurological drug administration. Dr. Tomomi Akita, another lead scientist involved in the study, adds, "We hope that our results can be replicated in humans, in the near future. Our study possibly paves the way for futuristic brain delivery applications like nanobiotechnology, and adult genetic engineering, too."
What a time for neuro-pharmaceutical research, indeed!
Reference
Titles of original papers
 :
Usefulness of cell-penetrating peptides and penetration accelerating
sequence for nose-to-brain delivery of glucagon-like peptide-2
Journal
 :

Journal of Controlled Release

DOI
 :
10.1016/j.jconrel.2021.06.007
Tokyo University of Science (TUS) is a well-known and respected university, and the largest science-specialized private research university in Japan, with four campuses in central Tokyo and its suburbs and in Hokkaido. Established in 1881, the university has continually contributed to Japan's development in science through inculcating the love for science in researchers, technicians, and educators.
With a mission of "Creating science and technology for the harmonious development of nature, human beings, and society", TUS has undertaken a wide range of research from basic to applied science. TUS has embraced a multidisciplinary approach to research and undertaken intensive study in some of today's most vital fields. TUS is a meritocracy where the best in science is recognized and nurtured. It is the only private university in Japan that has produced a Nobel Prize winner and the only private university in Asia to produce Nobel Prize winners within the natural sciences field.
■Tokyo University of Science(About TUS)
:
https://www.tus.ac.jp/en/about/

■Research List:
https://www.tus.ac.jp/en/news/03/

■Press Releases List:
https://www.tus.ac.jp/en/mediarelations/list/

About Professor Chikamasa Yamashita from Tokyo University of Science
Dr. Chikamasa Yamashita is a Professor and member at the Faculty of Pharmaceutical Sciences, Department of Pharmacy, TUS. Prof. Yamashita has more than 30 years of pharmaceutical research experience and is an expert in the field of nasal drug delivery systems. He received his PhD in the same field from The University of Tokushima, Japan. He has helped author over 150 research publications in nationally and internationally reputed journals. He also has four patents in pharmaceutical research to his credit.
https://www.tus.ac.jp/en/fac/p/index.php?64DC

About Assistant Professor Tomomi Akita from Tokyo University of Science
https://www.tus.ac.jp/en/fac/p/index.php?6ED0

Funding information
This study was financially supported by the Daiichi Sankyo TaNeDS Funding Program, and SENSHIN Medical Research Foundation.