Mer^2y X=mass
It's only a few more days until Christmas! Presents and cakes and seeing that relative you so look forward to meeting but after a few hours you're just glad you don't live with him. But for the students here at Tokyo University of Science, finals are coming in January; meaning it will be a merry very study-tastic holiday.
Anyway, we had a camera crew in our museum the other day. They are doing a show featuring Kagurazaka and our museum was chosen to be one of the hot places to visit! As exciting as this sounds, there's more. It's in English! The whole show is in English!
We did a short tour of the museum with amazing facts about ancient calculators and, of course, the beautiful Bush Differential Analyzer.
Very much simplified for anyone to enjoy with a side of educational fun. So, be sure to check it out (link below) and if in any way this show may interest you, the student staffs here will be more than grateful to provide you with the most astonishing fun facts.
The museum will be on a winter break until January 16, so it may be a little early, but this will be it for the year! I wish you all a heart-filled holiday and surely hope it won't be a mathematically depressing one like mine. :)
ChannelJAPAN:http://www.ch-japan.com/ja/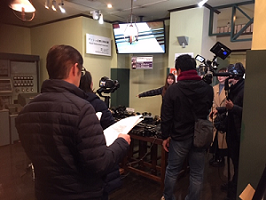 And a happy new year!